Customizing a new home is an experience unlike any other! With the chance to incorporate your style into each part of your home, your living space will feel entirely like you. Not to mention, our "Calvosa Touch" makes this process easier and more enjoyable than you ever imagined.
Two happy homeowners customized a home on the lovely Harley Court in Holbrook, and are now living their dream lives. A spacious foyer introduces the home's luxurious vibe, complete with sleek hardwood floors and an elegant staircase. From custom light fixtures to wall colors — and everything in between — this half-acre lot home was built straight from the minds of the homeowners!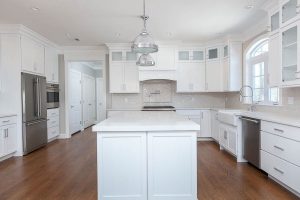 On the first floor, a spacious dining room, living room, laundry room, and bathroom are perfect for privacy and space, as well as for entertaining guests. The gorgeous, wide open kitchen is draped in elegant white and finished with accents of silver. These homeowners love making memories while cooking their favorite meals here!
The second floor has 4 incredible bedrooms with large windows and sleek gray walls, where anyone can sleep and hang out comfortably. A luxurious bathroom with a glass shower and relaxing tub make unwinding at the end of the evening feel like a spa session! A second bathroom provides the same feeling of comfort and luxury. On the same floor, an attic can be turned into anything you want — from a fun game room to a calming home office, the choice is always yours.
Are you ready for an innovative, breathtaking home that speaks to you and your distinct lifestyle? Are you ready for a home that's entirely you?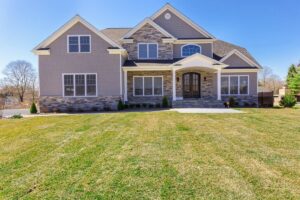 The Calvosa Organization is with you every step of the way, and makes the homebuilding process smooth, stress-free, and enjoyable. With us, you get to personalize your dream home with endless customizations!
We currently have one more homesite available and waiting for you on Harley Court in Holbrook, starting at $789,000! Let The Calvosa Organization turn your vision into a real home!
For more information on our stunning custom homes, visit www.calvosaorganization.com, drop us an email at info@calvosaorganization.com, or give us a call at 631-563-2551.