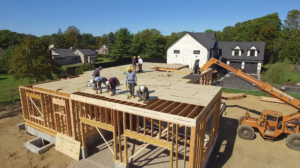 At The Calvosa Organization, we have a unique approach to building custom homes. We call it "The Calvosa Touch" – and no other builder can match it! What makes our way of doing things so special?
The Calvosa Organization is a locally owned and operated business. We live and work here. And we plan to be here for years to come, so you can trust us to stand behind our work.
Our team has years of experience, skills that have been passed down through decades of study and dedication. We know and respect each other, and have a good reputation in the industry and in the community.
We work one-on-one with our clients, developing personal relationships while we design one-of-a-kind homes. We strive for unparalleled trust, honesty and openness. We can't wait to help you custom design and build the home of your dreams.
At Calvosa, we are known for our passion, craftsmanship, trustworthiness and attention to detail. We use only the best products and materials. We guarantee our work. And we pride ourselves on building homes of quality and distinction.
Our dedicated in-house crew is hands-on, supervising every part of the building process, from daily inspections, to budgeting, to time management. We do everything ourselves to ensure that it is done to our exacting standards. The results, as you might expect, truly shine in a world that seems to value fast over well done.
When you're ready to build the custom home of your dreams, choose The Calvosa Organization. Because you deserve "The Calvosa Touch".