A new year means new home trends, technology and products! (The recent International Builders Show, Kitchen and Bath Industry Show, and Consumer Electronics Show introduced a ton of new and innovative inventions for the home.)

Here at Calvosa, we are committed to building homes that reflect each family's unique lifestyle. Our builder and in-house design team are up on all the latest trends, so you'll find plenty of inspired elements for your home! And since our homes are smart home ready, you can bring us your latest technology, and we can install it! Check out some of the hot products, designs and features we love!

1.) Understated design. Design-wise, a clean, less cluttered look is all the rage. At Calvosa, we've already embraced this trend. Our kitchens and bathrooms are models of sleek design, with smooth surfaces, lots of glass, and unfussy tile and accents. Our flooring and trim are elegant and sophisticated without being overbearing. And our exteriors are classically inspired, yet timeless.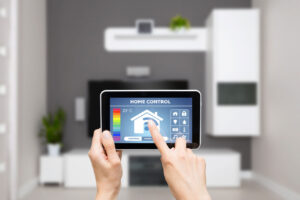 2.) Outdoor living spaces. Spacious patios, cozy courtyards, screened-in porches, and welcoming porticos… Extended outdoor living spaces are a trend that we really go for! From fire pits to fireplaces, gas grills to pizza ovens, TVs to real furniture, this is definitely not your parents' backyard experience.

3.) Smart home technology. To say that this field has exploded is an understatement. In the span of a few years, we've gone from smart thermostats to whole house automation. This year's slate of smart home products include increasingly smarter kitchen appliances, smart bathtubs, smart faucets, smart garage doors, even smart mirrors! (Make sure you invest in a smart home hub, too. Someone has to manage all this technology!)

4.) Energy-efficient everything. From insulation to HVAC, lighting to plumbing, every year brings better, more efficient systems. We strive to incorporate the best possible products and building practices in every Calvosa home, including high performance low-e insulated glass windows and sliding glass doors, smart energy testing, air sealing and duct sealing, and even solar energy capabilities. Learn more about what's new in home design! Chat with our in-house design team about incorporating trends into your new Calvosa home!