So, you've decided to build a new home on your own land! Congratulations. What happens now? Take advantage of years of homebuilding experience with Long Island's premier homebuilder, The Calvosa Organization. With our Build On Your Land program, you can enjoy all the benefits of a Calvosa home - superior quality, industry leading service and unparalleled value - virtually anywhere on Long Island. Our Build On Your Land program allows you to customize floor plans and elevations to fit your land and your lifestyle. Our construction and design professionals are experts at translating your thoughts and ideas into the perfect Calvosa home.
Initial Meeting. Your path begins with your initial consultation with the builder. At this meeting, we'll discuss preliminary floor plans, pricing and home sites.
Secure Home Site / Complete Site Evaluation. If needed, we'll assist you in finding a property that's the rightsize, location, and topography for your new home. Once we find the perfect site, our team will evaluate it, determining the placement of the home as well as site-preparation requirements and costs.
Secure Financing. Once you've found a site, you can begin the process of obtaining a loan or other financing with one of our Preferred Lenders or a lender of your choice.
Finalize Pricing / Sign Purchase Agreement. After we finalize pricing and the contract is signed, the fun begins!
Make Selections. Your journey moves to the Design Center! Together with our design experts, you'll select from the best materials and finishes. In the mean time, we'll begin getting permits to start building!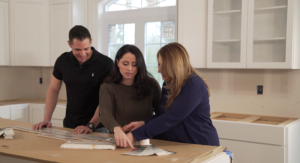 Pre-Construction Meeting. The pre-construction meeting with the builder and his site supervisor is designed to make sure we're all on the same page. You will review plans, specifications and selections to ensure that your home is built exactly as you envision it. After this meeting, your site supervisor will be your primary day-to-day point of contact.
Construction Begins! You'll receive weekly calls with progress reports detailing what's happening with your home throughout the construction process. The builder and your site supervisor will communicate directly with you as we clear your land, install the foundation, complete the framing, and install the roof.
Pre-Drywall Meeting. This is your opportunity to see what's behind the walls before the wallboard goes up.
Systems & Finishes Installed. From here, things begin to fly! Systems, mechanicals, utilities, cabinetry, floors, tile & trim… everything heads for the finish line!
Pre-Closing Orientation. Prior to settlement, you will have a demonstration of everything in your new home. Final tweaks will be made, and then it's time for your final walk-through and settlement!
Post-Closing Follow-Ups. Once you move in, we'll check in with you a couple times to make sure that everything is operating well, and you are enjoying your new Calvosa home!